Low Carb Primal Chili, otherwise known as…. Steve's World Famous Chili!!!!
…what's that? Never heard of it…huh.  Maybe it's just world famous… in "my world", you don't want to go there…it's a scary place.  :)
This current version only measured out to 4.2 grams of carbs per cup, so you can enjoy a couple of cups with no worries.
HOWEVER
… I really love chili and some times I will eat … 5-6 cups at dinner.  That's ALMOST my daily requirement of carbs in one meal. SO be careful.  Just because it's "low carb" does not mean it's "EAT ALL YOU WANT".   FYI – when I eat that many cups, yes my Blood Sugar is ALWAYS higher the next morning.
** NOTES:
1)   IF any of these ingredients are new to you (and you are diabetic) I urge you to read 1 and 2 hours post meal, just to make sure a couple of cups of the chili is affecting your blood glucose as you expect.
2) How did I measure carbs?  I make the chili, adding up all the carbs in the ingredients, then I remove all the chili a cup at a time. Then divide total carbs by the cup total. …. I DO NOT do this every time but I have done it several times over the last year, especially when I have significantly changed the ingredients.
3) My diced tomato comes from Walmart, 4g of carbs per 1/2 cup.
** IF your tomatoes (or any ingredients) vary greatly,  I urge you to measure the carbs yourself….just to make sure.   I've seen some tomatoes as high as 8 g per 1/2 cup….. it can make a big difference.
Enough of that… Onto the recipe. :)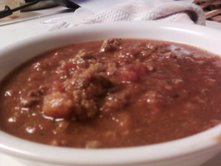 Ingredients
3 lb of ground beef, sometimes I'll add a lb of sausage.  Experiment by adding different meats.
2 large green peppers – chopped and seeded
1 cluster of celery – chopped
1 small onion – chopped
4-6 cloves of garlic (I use a garlic press)
½ cup of Texas Pete (or your favorite hot sauce… to taste)
2  28oz cans of diced tomato (you can use crushed, puree, sauce…but these can be higher in carbs)
Cumin to taste ( start with tablespoon)
Red Chili Pepper to taste ( start with tablespoon)
Black Pepper to taste ( start with tablespoon)
Paprika to taste ( start with tablespoon)
Directions
1. If a leaner, lower fat meat, butter the bottom of the pot well and brown the meat.
2. Add green peppers, celery, onion and garlic. Cook for 5-10 minutes on medium heat.
– You can alter the texture by processing vs "chopping" veggies.
3. Add Texas Pete, tomato, cumin, red chili pepper, paprika, black pepper to taste.
Cook on medium heat, stirring often until it begins to boil. Reduce heat and simmer for 30 minutes.
** I never measure anything… so everything is "to taste". The advantage to this is …my chili never tastes the same. The disadvantage is… telling someone the recipe. :)
Optional Items –  these are not optional for me, I almost always add these now, in differing amounts.
Collard Greens, Riced Cauliflower or Broccoli – I now almost always add one of these.
Coriander
Basil
Dill
Parsley
Cinnamon
Curry
Tarragon
Oregano
Chili is Versatile
I use chili with many different food combinations and I also vary the ingredients to suit the needs of the meals.
1. Combining: Try cooking chili with eggs, fish, steak, hamburger …. the options are as varied as your tastes. When combining with a protein, I typically will "reduce" the chili by cooking out more of the moisture.
2. Vary Ingredients: I do this most of the time…just for variety sake but this is especially true if I use it as a "spaghetti" sauce replacement. In this case, I may add another can of diced tomato, substitute Italian spices for the spicier ones. Although, I like all my food/sauces spicy. :)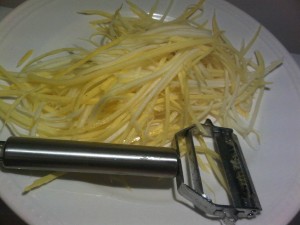 FYI – the picture above is my "noodle-less spaghetti" strings with the mandolin stringer.  :)  Below is a picture with the chili sauce added …it was before I purchased a "mandolin" slicer from Walmart. It now produces "angel hair" squash strings now. :)
To make the squash spaghetti, I "string the squash" and let it air dry for 10-15 minutes. Braise in a pot with Extra Virgin Olive Oil and Garlic for 10-15 minutes. IF you can refrain from eating the squash… (and it's tough for me) this will NOW make an excellent "noodle-less" spaghetti. :)
So as you see…there are MANY uses for the Versatile Chili…. and they can be LOW CARB AND PRIMAL!!!!
ARGHHHH!!!!! So…enjoy!