To be frank … if the contents of this post do not make you angry … then there is no hope in the near future for nutritional  justice.
WE must have the presence to stand together and FIGHT for what is right.  (I am not talking about violence…. but fighting with words and positive activism.)
In a recent post I discussed how "entangled" the American Dietitian Ass. was with major candy, drug and junk food manufacturers. You can read the post "Two ADAs" here , if you missed it.  Here is a short snippet from the post.
"…. the ADA lists Aramark, The CocaCola Company, The National Dairy Council and the Hershey Center for Health and Nutrition as partners."

The ADA receives some percentage (approximately 10% according to its most recent annual report[1]) of its funding from food companies, including  Abbott Nutrition, General Mills, Kellogg's, Mars, Pepsico, SOYJOY, Truvia and Unilever."
It makes me sick to my stomach to know that the "American Dietitian Ass." is influenced by Big Pharma and Big AgraBiz .
HOWEVER the information below in my opinion … is worse. It is amazing what you can find by simply 'surfing' through the internet….
For those that may not know, the American Association of Diabetes Educators (AADE)  is a national group representing Diabetes Educators, many of which are Certified Diabetes Educators (CDEs) .  These are the people that diabetics PAY for NUTRITIONAL INFORMATION …  their lives DEPEND on the information they are given.
CDEs are people, entrusted with the responsibility to provide personal, diabetes management advice to millions of diabetics in the US alone.
I have stated many times that the vast majority of Certified Diabetes Educators (CDEs) provide harmful dietary advice to diabetics… made even more shameful by the fact that diabetics MUST pay for such advice.  Well the information below…. literally made me ill.
On the website of the American Association of Diabetes Educators (AADE) they list their  Chairman of the Board of Trustees.   His name is Paul Madden, MEd  and if you look below, you can see that he is an employee of Pepsico!!!!   If I made this up… YOU WOULD NOT BELIEVE ME!!!  (Here is a link to one of Pepsico's websites describing Mr. Madden's duties at Pepsico.) http://foodfrontiers.pepsicoblogs.com/author/paulmadden/
Paul B. Madden, M.Ed., is Director of Advocacy, Education and Empowerment at PepsiCo. Working with the Nutrition and R&D teams, he collaborates with colleagues and key international medical, academic, foundation, government and business leaders to develop initiatives that support individuals and families to make more balanced, healthier choices with foods, beverages and physical activity.
*** Note in the above quote … his job is, " helping families to make more balanced, healthier choices…" …. uh huh.  WRONG! :(
And… if you still do not believe this… look it up yourself, here is the link. http://www.diabeteseducator.org/Foundation/Board.html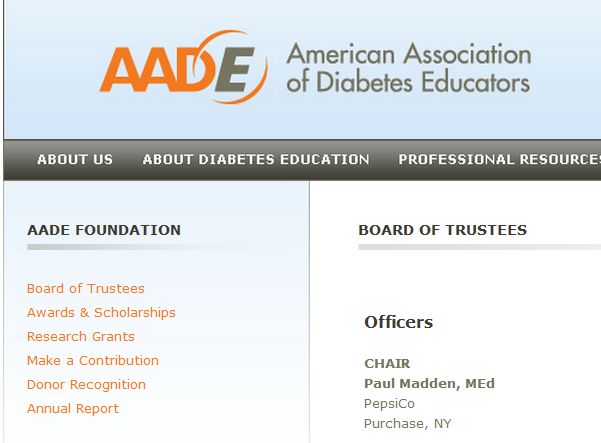 Also on the same page… you can see more evidence of collusion and commingling of influence peddling…. see below.   Ronald Hoven for example, is a drug company employee … I'm sure the profit or loss status of his company (Eli Lily) would never affect his decision making as a Trustee for "American Ass. of Diabetes Educators" (AADE)…..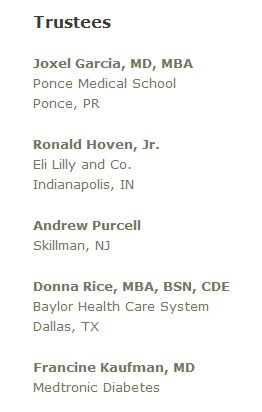 WHEN will we say enough is enough…. WHEN!?!
When will YOU demand honest, unbiased diabetes management advice???
The American Diabetes Association will DO NOTHING to help you … the American Association of Diabetes Educators (AADE) will do nothing… both are a den of thieves.   YOU must rise up and say enough is enough… but will you???
New entrant into the Diabetes Wall of Shame…   AADE and their "Board of Trustees".   :(
Here is my Diabetes Warrior Info:
My Diabetes Meal Plan ( a true diabetes diet, not like most of those promoted by American Diabetes Association)