Due to the 'taboo' nature of beef tongue… pictures are at the end of the post.
My sons and their friends, when they learned that I had eaten beef tongue …and had one in the freezer wanted to try it today (Easter Sunday).
I gladly obliged … I had been wanting them to try it.  The group peer pressure definitely played a part in the public support for trying it… that and testosterone. :))
Organ meats SHOULD be a part of EVERYONE's  diet … but this is  ESPECIALLY true for diabetics due to the low carb values of the meats. They are definitely part of my 'diabetic diet"….and I have normal blood sugar.
Tongue is an organ and generally organ meats are more nutritious than non-organ 'meats'.  Below is a picture comparing Beef Tongue, Beef Heart and Beef Liver with Ground Beef's Nutritional Panels.
** As always…click to view enlarged picture.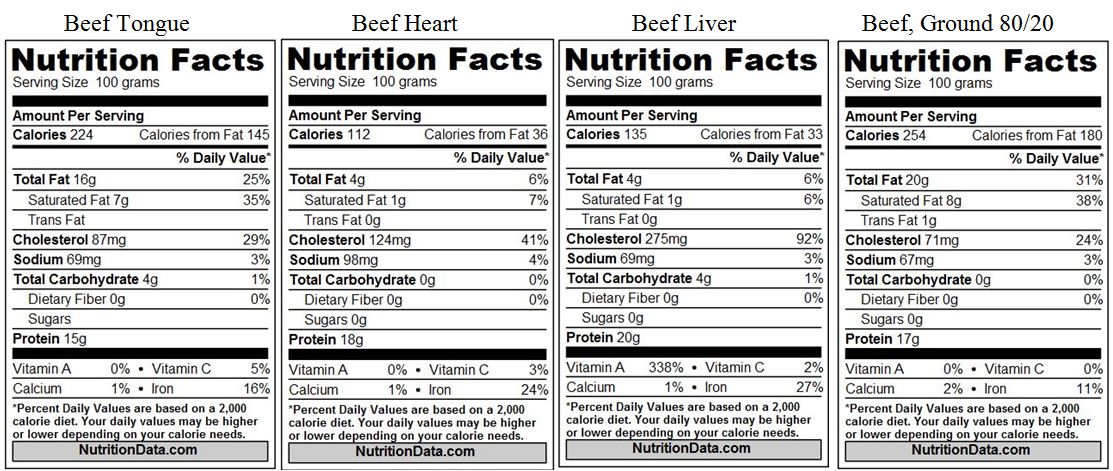 Notes:
1) Beef Tongue is the first panel and you can see that it is VERY HIGH in animal fats, 2nd only to the 80/20.  It is only 1g less in Saturated Fats than Ground Beef.  This explains why it is so tender…and it IS!  By the way, I believe the high levels of saturated fats are a good thing.
2) Beef Tongue also has 4g of carbs per 100g … I likely had 4-6 servings so I approached 16-24 grams of carbs … I did not think to check my blood sugar but will try to remember to check this next time.
3) The Protein / Fat / Carb nutritional panel only tells part of the story…. BELOW is the vitamin and mineral totals. As you can see BEEF TONGUE IS NUTRITIOUS!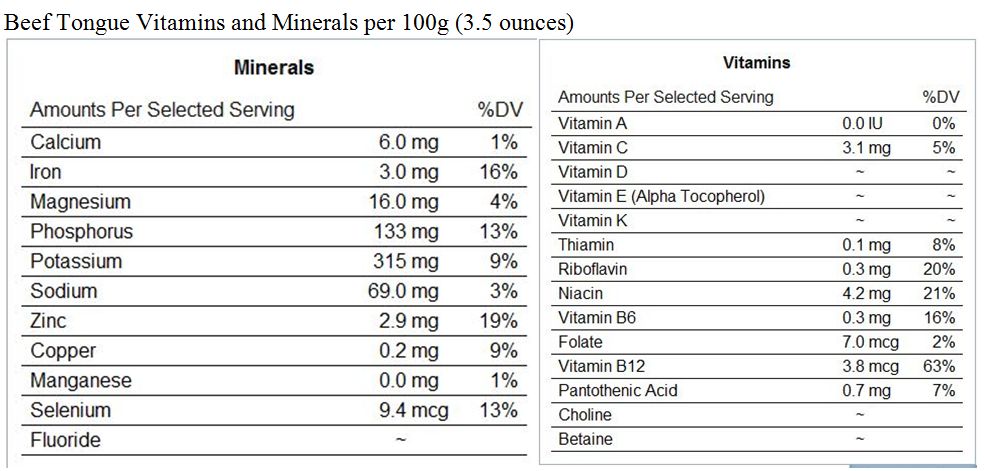 **  These nutritional panels are all based on 100 grams, which equals about 3.5 ounces.
Typically I will eat at least a pound a day… so these numbers could easily be multiplied by four for 'daily totals'.
*** WARNING
Graphic food pictures of beef tongue … follow.
Proceed at your own risk. :)
In a previous post I discussed Beef Tongue… without graphic pictures.  (click here)
I also included a video of my wife discovering that she was eating beef tongue… some thought it was humorous. :))
Warning…. ok…. You've been warned!!!! :)
Summary:
I have eaten beef tongue, heart and liver …they are all "different" textures from a Ribeye or Hamburger … but I like and will willingly eat them again.  As for beef liver… I can only eat "grass fed" beef liver, it's a much milder flavor.
Organ meats are generally lower in price and higher in nutritional value… THAT IS A WIN / WIN!!!
So set aside your ORGAN MEAT BIGOTRY … open your minds and your mouths to a new world of FLAVOR and textures. :)
My Diabetes Meal Plan ( a true diabetes diet, not like most of those promoted by American Diabetes Association)