For some of you … making gravy with Coconut Flour or some 'nut' flour may be old news.  Well … I held off for a long time… I wanted to mainly eat meat and veggies.
I finally gave in to using Coconut Flour …  for gravy. :)
I was SO excited!!!  I made my first paleo gravy yesterday, (click here for the post about Oxtail).  I only plan on using the recipe on special occasions and I was ELATED when all turned out as planned.
I've claimed to make 'gravy' before and technically I did… I would add meat broth and cream together and boil to reduce it. I did this mainly for holiday dishes, especially on Thanksgiving.
It took me long enough… but I finally made a Paleo THICKENED gravy using coconut flour.
OMG was it GOOD!!!  Coconut Flour  does NOT cause the gravy to taste like coconut. :)
In MY OPINION … it's EVEN easier than the traditional wheat flour version. The coconut flour does not clump together as easily… whisking and stirring periodically was all that was needed to make a delicious and thick gravy.
Let's get started. :)
Steps
1) Cook the meat! … preferably with excess broth.  There are ways to obtain broth from the caramelized bottom of a skillet but we'll assume you have several cups of 'meat broth'.
Below is the beef and broth I had from a recent Grok Pot (Crock Pot) cooking event.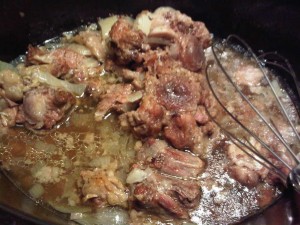 2) I removed 4 cups of broth and poured into a small pot. Add to that 1/2 cup of heavy cream and I like to add some of the meat as well.  See below.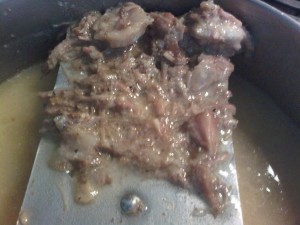 3) I experimented but eventually I added 3 TBS of Coconut Flour to the mixture. I whisked the mixture while adding the Coconut Flour.  One unexpected benefit? … Coconut Flour does NOT 'clump' or lump together like wheat flour.
And … it thickened up nicely.  After I finished eating the gravy had really thickened up.  If you like VERY thick gravy 4 TBS should be the amount to use.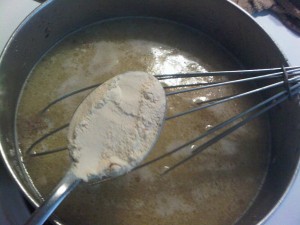 4)  Below you can get a hint at the thickness of the gravy and as I mentioned previously, by the time I finished eating, it had thickened up even more. By the way, it does not take me long to eat. :)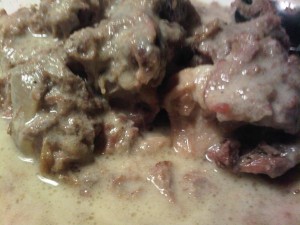 I can NOW eat GRAVY!!!!  Gluten free and very low carb!!!!! WOO HOOOO!!!! :)
Nutritional Information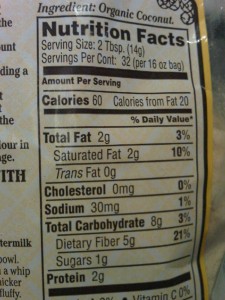 I used 3 TBS of Coconut Flour for the entire recipe …which is 1.5 servings of the flour.
I used a total of 12 grams TOTAL Carbs for the ENTIRE gravy 'batch', but only 4.5 grams if you 'NET' carbs.
Note:
About two hours post meal … I tested my blood sugar and read a 91. :)   I did not read pre-meal so I can't state a true Blood Sugar response… but I will take a '91' any day.
Summary:   I will not make this often … but I love the fact that I can add this to my Diabetes Weaponry. :)   This gravy, made with Turkey broth …. poured over 'creamed cauliflour' …. can't wait for THANKSGIVING!!! :)
My Diabetes Meal Plan ( a true diabetes diet, not like most of those promoted by American Diabetes Association)