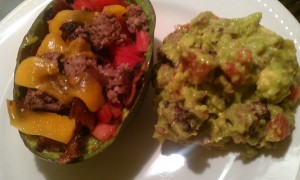 This is a 'sister' post to "Stuffed Guacamole Supreme". This recipe is diabetes friendly, primal and low carb… and best of all, it is DELICIOUS!
Guacamole is the 'base' of this food post and Avocado is the chief ingredient for Guacamole. Avocado is loaded with fats and has a decent amount of protein. Click here for the Nutritional Profile of the Florida variety, the one I used.
Stuffed Avocado
Steps
1) Removing the Meat of the Avocado – this can be done using a spoon but I like using an ice cream 'scoop'.
A) Because it's easier
B) Because I don't use the scoop for ice cream anymore. :)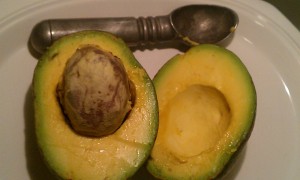 2) Making Guacamole – making Guacamole is so easy. It can be as simple as mashing an avocado, adding lime juice and garlic… and it's awesome! Click here for a post on how I make Guacamole.
Once you make it or buy it (not recommended), fill up the two 'bowls' approximately half full.  You can fill them up more if you are not going to add the burger.
Place in the refrigerator to 'chill' while you … cook YOUR MEAT! :)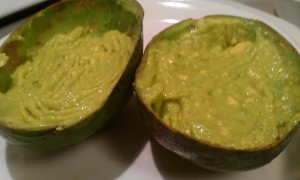 3) Cooking the Meat – In this post I grilled burgers and fried bacon… it was a great combination. I would bet that any beef, pork or poultry meat would do just fine.
After cooking the meats I crumbled up the burger and cut the bacon into bite sized pieces.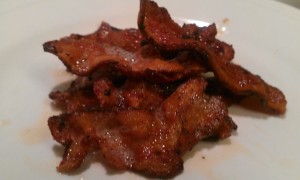 4) Chopping the Veggies – while the meat is cooking, prepare your veggies.  I only used Roma Tomatoes, so I diced them up.  Onions and especially green onions would be a great addition to this recipe next time. :0
5) Filling the 'Bowls' – Now is the fun part… Here is a bowl of bacon, burgers and tomato.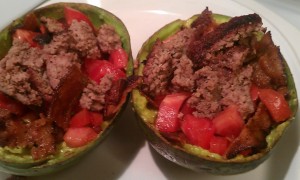 A closer view….  CLICK to Enlarge all pictures.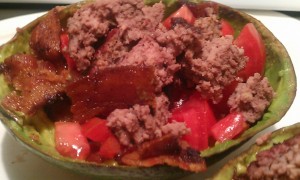 6) Avocado Salad?  This next picture is of the "Avocado Salad".  It is simply the leftover guacamole with ground beef, bacon and tomato all mixed together.
While this may not LOOK too appetizing… it tasts so good.   In fact, if you wanted to mix all the ingredients together you certainly could.   Think add cheese on top before broiling to melt the butter. :)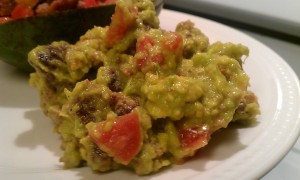 Summary:
There you have it!!! … yet another low carb, gluten free, diabetes friendly recipe.
I urge you to PLEASE follow this meal plan and eat recipes like these, click here. Especially if you have diabetes.