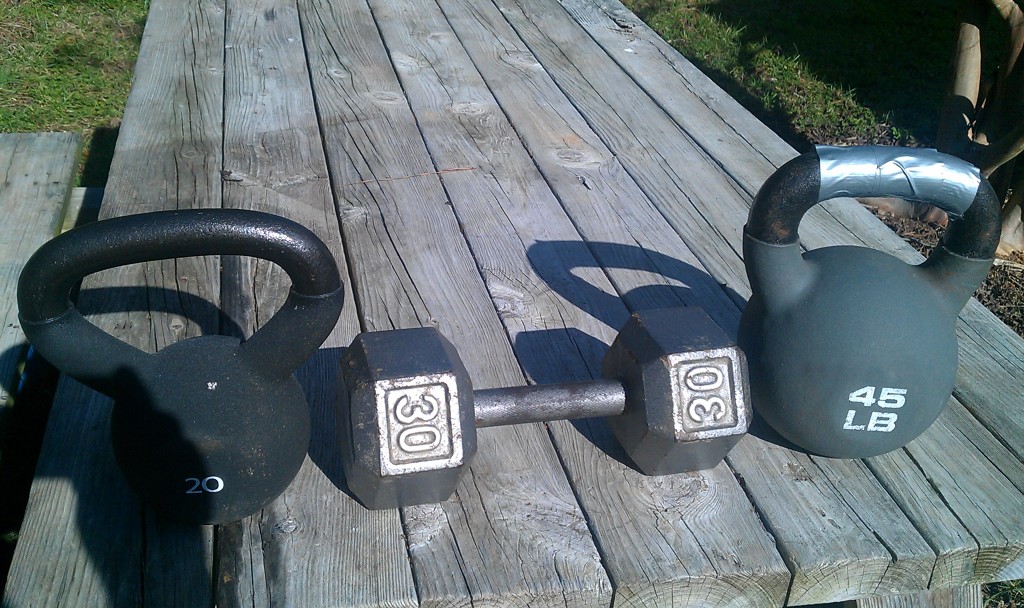 Introduction
In the fall of 2010, I decided to add kettle bell training to my eXercise routine.  Like with all things… you should start out slowly and gradually move up in intensity.
In the picture you can see my progression. Starting out with a 20 lb Kettle Bell (KB)  I began doing "KB Swings".
After I could do 300+ "20 lb KB Swings" repetitions in 15 minutes, I moved up to the 30 lb Dumb Bell Swings. I stayed with these until I could do 300+ at this weight as well.
Then I purchased my 45 lb Kettle Bell … wow it was a 'load' to swing properly.  Just like before, I started out slowly, gradually I progressed each week to more and more repetitions.
I achieved a "Personal Record" on April 4, 2011 when I did 338, 45 lb KB Swings in 15 minutes.
At that time I decided to take a break from Kettle Bells
Note: 
1) While I added the Kettle Bell Swings to my work outs I continued my core exercises. These core exercises are push ups, pull ups, curls, over head presses, rows, squats, lunges and barefoot sprints.
2) After taking a break from Kettle Bells … I began adding more sprinting into my exercises.  Kettle Bells were largely forgotten ….
I was really motivated to 'master' Kettle Bells Swings originally and once I felt comfortable with them I moved on to another goal.  I still occasionally did Kettle Bell Swings… but nothing too serious.  They are tough to do 'intensely' for me, especially swinging the 45 lb KB.
For about nine months my 45 lb Kettle Bell sat in the closet … collecting dust except for an occasional appearance.
Primal Exercise
One of the main theories about Primal Exercise routines… they keep you in excellent physical condition which should allow you to perform a variety of exercises reasonably well.
Examples: 
1) It is rare for me to run long distance … but once a year or so I do.  When I do, I have no problem running 6-7 miles.
2) My Tri 120 Workout, I skip these workouts for weeks at a time… still when I do them, I normally achieve an 'all time record time'.  Here is my video about "Tri 120's" if you are unfamiliar with them.
3) Despite not playing basketball for months, I could play in a pick up game today with 'kids' half my age and be competitive.
* The combination of intense exercises, sprinting, walking and heavy lifting prepare you for almost any physical activity… or that at least has been my experience.
** This is critical in my opinion for people to understand.
My typical exercise routines last 15-30 minutes per day…. not HOURS per day.
Yes, about once a week or every two weeks I will perform an exercise routine that lasts 45 minutes to an hour.  That's usually plyometrics, I perform this as a way to 'measure' myself.  It is very intense and allows for only brief rest periods which I attempt to shorten.
Primal Exercise is a key component of  'my success'.   YOU, ME, "WE" do not have to spend hours jogging and logging mile after mile 'on the road'.  You do NOT have to spend countless hours in the gym … I spend 15-30 minutes a day (most days) in intense exercise … that's it.
Almost ANYONE CAN DO THAT!
New Personal Record
Last week I began a new assault on a new personal record…. primarily thanks to these two people.
Bunny Miller is a friend of mine on facebook, she had been talking recently about how much she had benefited from performing her Kettle Bell routines …   that planted the seed in my head that I needed to get back into my Kettle Bell routines.
By the way, Bunny has an amazing story and has had major success in her own right… some day I hope I can share her story. :)  (hint hint)
David Craig is a cool guy… and also a friend on Facebook.  He posted some CRAZY stuff a couple of weeks ago about doing 10,000 Kettle Bell Swings in January….  that is SOME serious WORK!
Seeing David commit to that made me decide right then to go for another record.
So thanks to you both for motivating me to push myself with the Kettle Bells… once again. :)
My plan?   Alternate Kettle Bell training days doing two, 15 minute 'all out sessions'.  One session is typically in the morning and the second is in the afternoon or evening.
Day 1   
1st 15 minute session  = 270
2nd 15 minute session = 241
Total = 511
Note: Before I did this workout, I did not remember my previous personal record. I do a lot of "15 minute challeges" with push ups, pull ups, jumping jacks etc.    After the sessions I felt pretty good with the effort … until I looked it up and saw that my previous personal record was 338!
It may not sound like a huge difference… but 270 is a LONG way from 338.
Day 2 (rest)
Day 3
1st 15 minute session  =  312
2nd 15 minute session = 303
Total = 615
Note: This was MORE like it… but still a long ways from 338.
Day 4  –  30 minute Light Upper Body Workout,  Push Ups, Pull Ups etc
Day 5
1st 15 minute session  =  346 !! … a new Personal Record! 
Summary
Yes, in just five days after re-committing myself to obtaining a new personal record in maximum 45 lb Kettle Bell Swings … I had achieved it.   This occurred despite rarely picking up a Kettle Bell in approximately 9 months… and without ANY serious Kettle Bell workout.
This is further testimony in support of living primally.   Eating, exercising and living a primal lifestyle keeps you in 'good shape' without spending hours 'pounding the pavement' and hours in a gym.
I do use Kettle Bells and Dumb Bells … but I am mostly a 'body weight' exerciser … combined with sprinting and plyometrics, it's a solid combination to improve fitness… mentally and physically. :)