Two of my most popular (and my personal favorites)  food posts are "Primal Chili" and "Low Carb Chicken Wings".
I recently discovered an error that I had to rectify… immediately!  I did not have a food post on 'Grilled Chicken Wings!".
As always… grilling adds a nice smokey flavor that adds variety to foods that I normally braise, broil or 'grok pot'. :)
Let's get started with the post!
Ingredients
1. Chicken Wings – I prefer to cut them myself… but of course you can purchase them already cut up in most stores.
2. Favorite Hot Sauce – Use your favorite…  Texas Pete and Tabasco are my favorites.
3.  Spices – I use Tony Chachere's, paprika, red pepper and black pepper.
4. Butter – this is optional, I usually do not use this as I like a 'dryer', less slippery wing.  I got the 'slippery' from my youngest son… he used that to describe wings that were not dry enough. ;)
Steps
1.  Cutting up the chicken wings … I use a 'heavy knife', I have used normal steak knives and they work… but the heavier the better.  When I first began cutting up chicken wings, it was a PAIN … but now it's so easy.  Once you 'learn' where the joints are… it only takes me a few seconds per wing.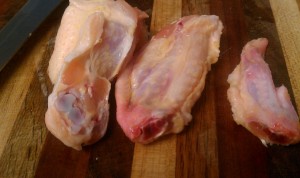 2.  Place on the grill… if your grill is not 'seasoned', you may want to brush Olive Oil on the grill to make sure the chicken wings do not stick.  Most of my grill is 'seasoned' but there were a few spots I used a wire brush dipped in olive oil to lube up the grill. ;)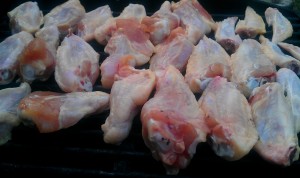 3. Cook on Lowest Setting and keep an eye on these.  They are loaded with fat and 'flare ups' can come up quickly.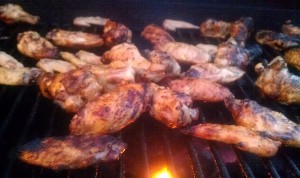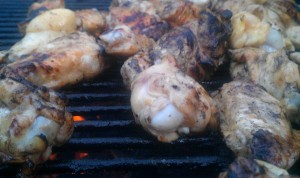 4.   Remove from the grill.  These cooked for approximately 30 minutes.  Your grill temperature will vary so test them by removing one from the grill…once you think they are done to see if they are 'ready for you'. :)
a) Remove from the grill and place in a large glass bowl.  I use an old mixing bowl.
b) Add your spices and then the hot sauce.  (also add melted butter at this point if you choose)
c) Using a large plastic spoon, turn the chicken wings in the bowl to completely and thoroughly coat them in the spices and hot sauce.
Your wings should look similar to the picture below… click on this picture or any picture to enlarge. :)
I have a photo album on Google Plus with more pictures if you would like to see them, click here.
Going low carb primal is so SIMPLE!!!    If I can do it… you can too! :)