Today is day 32 of my "Very Low Carb, Strict Paleo"  30 day experiment.  In other words I am continuing the 'experiment'. :)
Why?  I have experienced no detrimental effects due to the experiment… it' s been all positive.
Here is my typical meal plan.   Instead of talking about all the foods I'm giving up… it would be easier to talk about what I am consuming.  For 30 days, I consumed only meats (no eggs),  leafy green vegetables, water, coconut oil and coffee.   No nightshades (potato, tomato, etc), no dairy, no eggs and no alcohol.
Additional posts on the experiment
Intro – Nagging Question … a new challenge
Week One – Very Low Carb Paleo Experiment
Midpoint – Half Way, 30 Day, Very Low Carb, Strict Paleo – Update 
 Why do this Experiment?
I really wanted to know if going 'strict paleo' for 30 days would reduce or remove my insulin resistance.  Of course, I also wanted to know if it would affect my energy levels and body composition etc.
The thought is, by removing potentially inflammatory foods, my body may be able to heal itself (I'm a type 2 diabetic, here's my story).
I always eat a very low carb 'primal' meal plan … but I wanted to go strict paleo "all the way".  To do so I eliminated as many of the potentially inflammatory agents … namely nightshades ,  dairy  and eggs.  I also eliminated wine (all alcohol) because it affects metabolism. Here is the best post I've read about alcohol and how it affects metablolism, "The Truth About Alcohol".
So… for 30 days I consumed only leafy greens, meats, water, coconut oil and coffee.
Let's dig into the 'data'. :)
Food Journal
– see the note section after the picture below for my comments.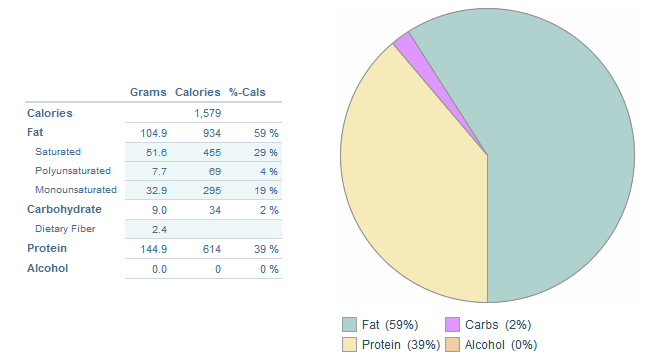 Notes: 
1) In the next section I am going to compare previous food journals so for now, I am only going to address the picture above.
2)  ONLY 9 grams of CARBS PER DAY!!!  And after subtracting 'fiber' … less than 7 grams per day.  
Truth is, had I not bought beef liver (which is relatively high in carbs) this number would have been around 2-3 grams per day… all from spinach (or leafy green veggies).
If your certified diabetes educator, doctor or nutritionist … tells you, you must eat carbs or fiber… please laugh in their face and tell them to call me. I'll even post my telephone number  704-443-8658.
3) 59% of my calories from fat… I love that.  :)   Same as above… if anyone tells you saturated fats are unhealthy … laugh in their face and give them my number.   Hydrogenated veggie oils are bad… not saturated fats.
4) Protein Grams of 144 … is exactly where it should be.  I could care less about the 'percentage' of protein.  Mark Sisson and others state that protein consumption should be approximately 1g of protein for each lean body pound.  I estimate my lean body mass is about 144 lbs.
4) PUFAs – I really loved the Polyunsaturated Fat (PUFA) percentage.  Most knowledgeable people will tell you a PUFA percentage in the 3-4 range is preferred.
Historical Food Journal Comparison
Notes: 
1.  Historical (A) is representative of my periodic food journals. It is an actual two month journal from fall of 2010.   (B) is my current food journal data.
2.   Deficits … all nutrient categories (fat, carbs, protein) were less this time.  I was not shocked when I saw this because I look at my daily food journals.  I found that I required much less 'fuel' with this way of eating.
3.  What caused the deficit?  I attribute the deficits mainly to the elimination of dairy (specifically cream).  I do eat cheese occasionally but it's not every day.
What I do (or did) drink every day was 'heavy whipping cream', in my coffee.  I would easily consume 1,000 to 1,500 calories per day in just cream.  Remove that and it explains most if not all of the variances.
Did I go hungry?   Honestly no, I never went hungry.  If I did start to feel hungry,  I'd take a walk or perform a workout.
Just so you know, I can always eat.  Unless I just finished two ribeyes (or the equivalent) … I can always eat. :)
I was a glutton before diabetes diagnosis and I am still a glutton… I just eat healthy 'real foods' now.  During this experiment I did make a conscious effort to reduce 'over feeding'… or gluttony.  It is much easier to stop stuffing myself when I am eating fatty meats and veggies.  (mostly fatty meats) :)
I plan on making this my 'standard' meal plan… I have enjoyed it that much.  (except when I am experimenting of course)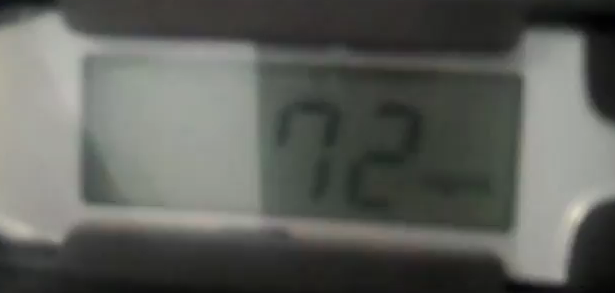 Blood Sugar & Insulin Resistance
Jury is still out on this. Why?
A)  Blood Sugar Levels. There is no doubt the reduction in carbohydrates lowered my blood sugar readings.   I recorded several blood sugar readings in the 70's, here is a 72 my lowest during the 30 days.
Was it all due to reduction in carbs or … could some be due to reduction in an inflammatory food? … time will tell.
Nothing happens in a vacuum.  While the trend was lower for sure, I did have a few elevated blood sugar readings too.  I experienced significant stress during the experiment including an injury to my lower left leg.  It is healing nicely by the way, here is the post, "Primal Blood was Spilled".  I decided not to treat with any antiseptics nor antibacterial lotions, potions nor chemicals.
I did coat with coconut oil and vitamin D3 a couple of times. :)
B) Insulin Resistance Improved?  
THIS is the big question that I want answered.
I won't know until I perform my next experiment…  I am planning on adding back carbohydrates (slowly) over a week's time, until I reach approximately 100g of carbohydrates per day.
Then the plan is to maintain that level for a week, allowing my body to adjust back to burning glucose as it's primary fuel.
Why?   I've read that once a person converts to a Very Low Carb diet, staying in ketosis, the body needs a couple of weeks to adjust back to burning glucose.  I am going to give it two weeks and see 'where I stand'.   I will call off the experiment if my blood sugars remain elevated … I have not yet determined at what levels I will cancel the experiment…. but we shall see. :)
Note:  I will NOT eat 'junk' foods… no glutenous grains, no high fructose corn syrup…  my exact meal plan is still in the planning stages. :)
This is similar to a previous 'high carb' experiment I did last year, "Date with the Devil" and the follow up post…. the increase in carbs will be gradual this time. :)
Exercise
Despite a reduction in over 800 calories per day… you would expect a slight drop off in energy, right?
… I felt no drop off at all.  I maintained my workouts and noticed no ill effects… alternating weight resistance with intense cardio.
Due to the cessation of wine, I even added two to three evening  'intense cardio' sessions to help reduce stress…. naturally. :)
15 Minutes of Hell – In support of my contention that I experienced no reduction in energy levels … I set new personal records in "Maximum 45lb Kettlebell Swings in 15 minutes" several times during the 30 days.  Here is the last post where I achieved my long term goal. "Goal Achieved".   I completed 405, 45 lb kettlebell swings in 15 minutes.  That is over 18,000 lbs, over 9 tons in just 15 minutes… and yes, I am just a little proud of that. :)
 Body Composition
I do not believe in 'calories in, calories out' theory … however, if you remove 850 calories for an extended time and have a slight increase in intense exercise levels … I do believe weight loss/fat loss will follow.
Guess what??? … it did! :)
My weight varies greatly based on quantities of food and the timing of consumption, so I hesitate to use exact numbers.  The week prior to the experiment my weight was typically in the upper 170's.  This past week my weight has ranged in the low 170's and this morning I had a 169 on the scale.  That's the lowest I've been since last summer, so there is definitely a lower trend in weight.   Jeans and shirts are feeling more loose.
My 'four pack' is starting to poke through again…  I am hesitant to change anything until I 'find' a six pack in there.  :)
The End
This experiment like most… answers a question or two…
One thing I am more certain about today than ever …
"we do not require dietary carbohydrates to survive… nor to THRIVE!"
Please…  do not believe ignorant and intellectually lazy diabetes educators, doctors or nutritionists who tell you that you MUST eat carbohydrates to LIVE! … it's a lie.
Peace oUT!