How do Nutritionists sleep at night?   For that matter how do doctors, nutritionists, dietitians, diabetes educators … that push grains, cereals, breads, pasta and rice … sleep at night?
Even more revealing, how can the 'medical industry' continue to promote the same high carb, grain based diet to those it harms the most… diabetics?   Carbohydrates cause a blood sugar spike … that requires drugs and insulin to bring down.  Additionally the soaring highs and  the resulting crashing lows can be extremely dangerous.
This reminded me of something  …
"How can the medical industry promote essentially the same diet designed to fatten up cattle for slaughter, as a healthy diet for humans?"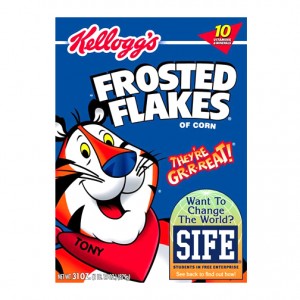 How in the hell can the medical industry promote grains and cereals … crap like this as heart healthy and diabetes friendly??    ===>>
Thanks to my friend Greg Lechner for sharing this link from Kellogg's… and their disgustingly high carb, drug inducing foods.
The link above raises another question that needs answering?
How can companies portray their foods as 'diabetes friendly' … when they are some of the ABSOLUTE WORST foods… a diabetic can eat?  (Some of the worst foods anyone should eat)
I'll tell you how…
First … did you know that a medical industry study shows that 90% of diabetics … FAIL!  Click here for a post on the study.
However, the medical industry is growing every year… hmmm.  The Medical Industry is #Winning.
Second …  let's look at the nutritional panel of the food pictured above …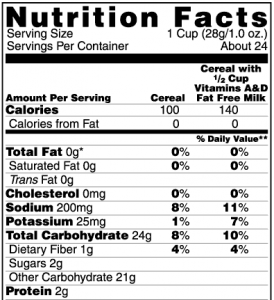 This is the typical 'low fat, high carb, grain based food' that is being pushed on diabetics … every damn day.
24 grams of carbohydrates for just the cereal alone.  Add to that a full cup of milk which is around 11 more grams of carbohydrates, that equals about 35 grams of carbs in a single serving for a single MEAL!
I don't know many adults who could just eat one serving of this and walk away, but let's assume so.
35 grams of carbs is more than I eat most days!!!.  The medical industry of course also wants you to eat some sugary fruit or drink a sugar laden glass of juice.
I normally eat about 20g of carbs most days, I once was drug and insulin dependent with high blood sugars.  I have been drug and insulin free with normal blood sugars for about three years.
The choice is yours, you can eat their way…. or my way. (Click here)
Many people are harmed by the high carb advice … many die early deaths after years of living in pain and anguish.
Why is this allowed?
This next picture tells you all you need to know/  The quote/info below is from this link, it's the Kellogg's 'diabetes friendly' website promoting it's drug inducing cereals…as 'diabetic friendly'. :(

Did you 'catch that'???  The American Dietetic Ass.  (now the Academy of Nutrition and Dietetics) and the American Diabetes Ass.  (twin ADAs) give Kellogg's  the free pass to call this 'junk' … diabetes friendly.
Additionally, at 'only' 45 grams of carbs per meal = 135 grams of carbs per day plus  15 grams of carbs for two snacks… that's a whopping 165 grams of carbs per day… that's more than I eat in a week!!
The two groups whose responsibility it is to protect us all and  diabetics … give companies and the medical industry 'cover' while they pimp their drug inducing foods.
Why?  … follow the money.
Here is 19 million reasons why the American Diabetes Ass. promotes a drug inducing meal plan.
Here is a post showing the corporate sponsors of the American Dietetics Ass.
Here is a post showing the corporate sponsors of the American Ass. of Diabetes Educators.
Summary
The twin ADAs not only give the food companies the okay to pimp high carb foods, the twin ADAs also give cover to doctors, nutritionists and diabetes educators to do the same.
I've been told many times, "I'm just instructing diabetics on what I am taught" … let's see… "Just doing my job", how many times has that reasoning been used throughout history?   (read my disclaimer at the bottom of the page)
People are in denial or they do not really know what's going on.
Big Pharma and Big Food are 'contributing' to the very groups that are supposed to be giving us impartial dietary advice.
To pretend that this is not influence peddling … to assume the money does not influence decisions is very naive.
If British Petroleum was a major contributor to Green Peace, and Green Peace came out promoting deep ocean oil drilling… would you still claim it's unrelated?
If  Jack Daniels was a large contributor to Alcoholics Anonymous and AA promoted drinking "Jack Black" in moderation… would you still think the two were unrelated?
I don't think so.
Yet, people do not question Big Pharma and Big Food's contributions… and no one wonders why both ADAs promote a high carb, grain based meal plan… to diabetics.
It's time to OCCUPY NUTRITION … we must get nutritional policy out of the hands of those who profit from their pathetic advice.  #OccupyNutrition.