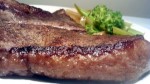 Whatever you do … do NOT listen to me!!!  
I was:  someone who was drug and insulin dependent, taking (4) insulin shots per day,  just to survive.
Today:  and since March '09 I have been completely drug and insulin free … and I have normal blood sugar for non-diabetics.
To the right is a . . . → Read More: Listen to the experts of diabetes care?