The thicker cuts still had a faint liver taste but with the smokey flavor from the grill... I could eat this ALL THE TIME! And the thinner cuts ... had NO liver flavor at ALL! ... just smokey meatiness! :)
Prep Time :


5 min

Cook Time :


20 min

Ready Time :


25 min
Ingredients
Beef Liver
Extra Virgin Olive Oil
That's it! No other ingredients required!
Directions
** Note: I am trying out a new 'recipe' wordpress plug in.  If this works ok, people will be able to submit their own recipes as well.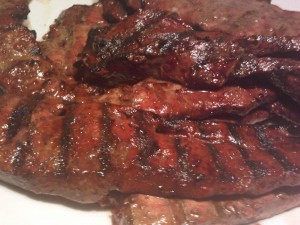 1) I am NOT suggesting you try this … I am TELLING YOU to TRY THIS! :)
2) IF YOU DO NOT TRY THIS … you will miss an opportunity to enjoy one of the world's most nutrient dense foods.  Check out this post for nutritional information, etc.  "Liver, Nature's Vitamin Pill"
In the previously mentioned post I mentioned, a few months ago I purchased 10 lbs of GRASS FED Beef Liver for .99 per lb. I was lucky… meat manager wanted to get rid of it and I told him I'd take 'all he had'. The only negative …. 5 lbs was un-sliced and frozen.
I finally decided to deal with the 'slab' of beef liver … I had to, we were defrosting our upright freezer and we did not have enough room in the fridge. After soliciting suggestions from paleo/primal friends I decided to 'grill' the beef liver.  Special thanks to everyone for the suggestions.  I had decided to braise in a cast iron skillet (as usual) and make a Beef Liver Pate out of the leftovers  (as suggested by Katelyn Giovino) …   … but at the last minute I decided on a whim to grill the livers.   Why? We all know that grilling adds a smokey flavor to everything and while grass fed beef is much milder in flavor … it can still be a turn off to some. The day before I had cooked 4 lbs of burgers on my grill … so it was primed for ACTION with beef fat! :)
Steps
1. Cleaning the Grill. As always, my preparation for grilling includes 'cleaning the grill' with Extra Virgin Olive Oil and a wire brush.  Too, the oils obviously coat the grill and help to prevent sticking.  Light the grill and set to 'low heat' setting while prepping the liver.
2. Oiling Up. Normally people buy beef liver pre-sliced. If you do, simply brush on a coating of Extra Virgin Olive Oil. Of course melted tallow, lard, butter or Coconut Oil works great too.
3. Slicing. This beef liver was in a 5 lb 'chunk' … I sharpened my knife and sliced in 1/2 to an (1) inch thick pieces.  At this point I brushed on the Extra Virgin Olive Oil and placed on the grill…. picture is below. At the time of this picture, cooking had started for several minutes and as you can see… some pieces were well on their way to being done on one side.
4.  Turning.  I was really surprised. The beef liver did not 'stick' at all when it came to turning. I turned after about 8-10 minutes. Next time I may omit the brushing of the individual pieces with oil and see how that works out.
This was an EASY grilling job… I kept the heat on low the entire time, fats from the previous day's burgers kept a nice aroma wafting through the air. :)
… LOOK AT THESE PICTURES!!! Does this NOT look D-lish!?!?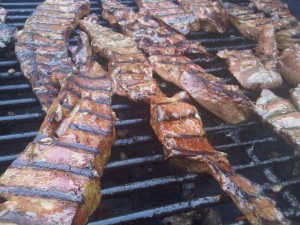 5.  Below is another picture after both sides have been 'seared'.  Total cooking time for me was less than 20 minutes… but I tend to err on under cooking as opposed to over cooking.
Obviously the thickness of the pieces as well as the temperature of your grill will all come in to play… as well as how 'done' you like your meats.
But I promise you this…  this BEEF LIVER was TRULY awesome.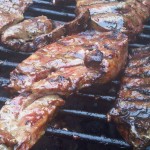 The thicker cuts still had a faint liver taste but with the smokey flavor from the grill… I could eat this ALL THE TIME!
And… the thinner cuts … had NO liver flavor at ALL! … just smokey meatiness! :)
I froze 5 packages containing approximately 8 oz of beef liver … enough for a couple of weeks worth of beef liver … …try IT!!!!   You might like it, and if you do you will be eating a very healthy and nutrient dense food.
Here is my Diabetes Warrior Info:
My Diabetes Meal Plan ( a true diabetes diet,not like most of those promoted by American Diabetes Association)