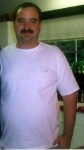 When I sit down to think about all the things that I can give thanks for, it's a long list… RELAX I am NOT going to list them. I want this post to be different!
As sincerely as I can say it … I am so thankful for … DIABETES!
Why would I be . . . → Read More: THANKS for DIABETES!?