A great fatty fish to eat is salmon, especially wild caught salmon.  This recipe for salmon is diabetes friendly and great for those…
who want to try a low carb paleo version of salmon patties
who may not like the taste and texture of salmon
I have made Low Carb Paleo Crab Cakes, which is essentially the same recipe but this time I added a little twist. This time I grilled them.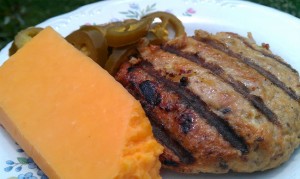 Note: I'll restate this below but the key is properly lubricating the grill. I  use a metal wire brush and scrub with Olive Oil. I also only turned the salmon patties once. I was anxious to see if this would turn out okay, IT WAS SO EASY!
Low carb paleo can mean different things to different people.
Low Carb for me means very low carb.  Less than 30 grams of total carbohydrates per day.  I am usually in the 10-15 grams of carbohydrates per day.  So I do not eat higher carb fruits, potatoes nor rice.
Paleo for me means, no highly processed foods.  No breads, cakes, cookies, cereals.
Here is my low carb paleo meal plan for specific examples of what I eat and what to avoid.
Ingredients
28 oz of Salmon (any fish or seafood would work)
3 tbs of onion
3  tbs of celery
2 eggs
Salt and Pepper to taste
Slap Ya Mama! Cajun Spice to taste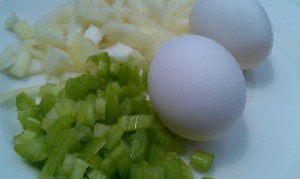 Steps
1.  Chop up the vegetables – I cut up 1/2 of a small onion and one celery stalk. However, I only added 3 tbs of each to the mixture.
2.  Place the salmon in a large mixing bowl, chop coarsely and add two eggs.  Mix well with a large spoon.  Add salt and pepper to taste.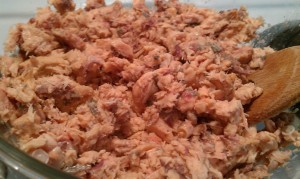 3.  Prepare the grill. I pour a small amount of olive oil in a saucer.  Dipping a wire brush scrub brush I clean and lubricate the grill well at the same time.
4. Patty the salmon … while the grill is warming up.   Place lightly on the grill.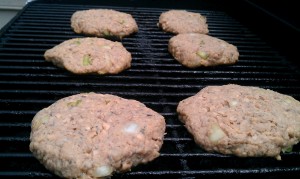 5. Cook patties – I cooked these about 7 minutes per side. ONLY TURN ONCE to make sure the patties stay intact.  These did not stick at all.
6. EAT!   These turned out so well!!!     I was relieved. I was worried they would stick but as you can see, they did not.
I ate these with cheese and jalapenos … next time I'll use my favorite low carb paleo slaw recipe. Here is my "Primal Slaw" post.  :)
Note: You can braise these in a skillet or in the oven as well.
Summary
There really is NO EXCUSE for eating a 'high carb' meal.  There are so many low carb paleo options.
If you want to make your favorite dish 'paleo', chances are there is a way.  Simply google "paleo" with your favorite food.
Say no to the high carb, grain based meals promoted by the American Diabetes Association.
There is a better way. :)
Reduce Your Blood Sugar the Warrior Way
Below is my personal 'diabetes care' manual. It is truly diabetes friendly, not Big Food, Big Pharma and Medical Industry friendly.  Every person who follows my plan improves blood sugar control.  Not coincidentally, each person who follows my diabetes care plan reduces the profits of Big Food, Big Pharma and the Medical Industry.