I have made 'broiled' salmon patties many times based on this crab cake recipe from MarksDailyApple, "Primal Crab Cakes" but this time I added a little twist… I grilled them. :)
** Note: I'll restate this below but the key is properly lubricating the grill. I  use a metal wire brush and scrub with Olive Oil. I also only turned the salmon patties once. I was anxious to see if this would turn out okay, IT WAS SO EASY!
(Click any picture to enlarge)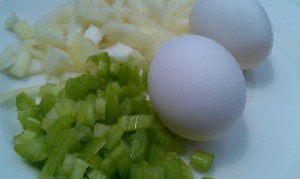 Ingredients
28 oz of Salmon (any fish or seafood would work)
3 tbs of onion
3  tbs of celery
2 eggs
Salt and Pepper to taste
 Steps
1.  Chop up the vegetables – I cut up 1/2 of a small onion and one celery stalk. However, I only added 3 tbs of each to the mixture.
2.  Place the salmon in a large mixing bowl, chop coarsely and add two eggs.  Mix well with a large spoon.  Add salt and pepper to taste.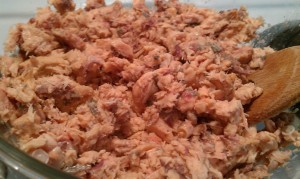 3.  Prepare the grill. I pour a small amount of olive oil in a saucer.  Dipping a wire brush scrub brush I clean and lubricate the grill well at the same time.
4. Patty the salmon … while the grill is warming up.   Place lightly on the grill.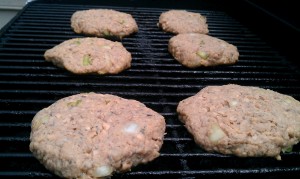 5. Cook patties – I cooked these about 7 minutes per side. ONLY TURN ONCE to make sure the patties stay intact.  These did not stick at all.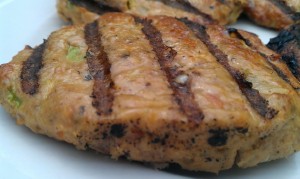 6. EAT!   These turned out so well!!!     I was relieved. I was worried they would stick but as you can see, they did not.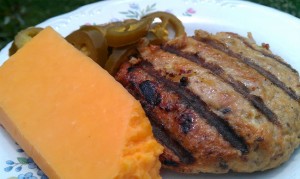 I ate these with cheese and jalapenos … next time I'll use my favorite slaw recipe. Here is my "Primal Slaw" post.  :)
Note: You can braise these in a skillet or in the oven as well.
Summary
There really is NO EXCUSE for eating a 'high carb' meal.  There are so many low carb paleo options.
If you want to make your favorite dish 'paleo', chances are there is a way.  Simply google "paleo" with your favorite food.
Say no to the high carb, grain based meals promoted by the American Diabetes Association.
There is a better way. :)