My Diabetes Story
I have several blog posts where I have documented my "diabetes story', so I'll just summarize my story on this About Me Page. At the end of this page there are links if you want to read more. On the right hand side of this page is a "Before and After Picture" but below you will see the health results of my personal diabetes management regimen.  In my opinion ANYONE can achieve these results.   It is so simple… eat as we were designed to eat and "move".
To summarize my story, I was an obese, sedentary, recently diagnosed diabetic
when I began this journey. I was on diabetes, cholesterol, and hypertension
drugs as well as taking 4 insulin shots per day.
But within days things began to change and within a few months, I WAS A NEW PERSON!
Check out my "before and after" ailment chart below to see the results I received with my diabetes treatment regimen.
Ailment
Before
After
Obese
235 lbs
165 lbs
Diabetes – HighBlood Sugar
740 mg/dl the day of diagnosis
Now I have normal fasting levels, less than 100 mg/dl
Insulin
4 shots per day
-0- Insulin Shots
Blood Sugar Drugid
Actos
-0- Diabetes Drugs
Hypertension
150/90
"average" now is 112/67
Cholesterol
"High"
Optimum / Protective
Bronchitis & Asthma
multiple yearly bouts
lungs have been clear, as of this writing for 19 months and 5 days….and yes I'm counting.
Plantar Fasciitis
Always wore shoes
Rarely wear shoes except for running on streets. I sprint barefooted and never wear shoes in or around the house.
Lower Back Pain
Multiple Yearly Flare Ups
Occasional flare ups but only after playing basketball. Intensity has lessened.
Acid Reflux &
Indigestion
Weekly Flare Ups
No Reoccurrence in 19 months (since March '09)
Lethargy
low energy level
Ketosis provides me with a seemingly steady energy level and I believe it aids in my post workout recovery time.
Links to Steve Cooksey's 'Diabetes Story'

My First Year with Diabetes – here you can see the difference
ONE year can make.
My Diabetes Story – this gives you an accurate description of my battle with
diabetes during the critical early months. Since then, it's been relatively
EASY!
If all of this seems daunting and overwhelming? If you are lost and need some extra help and motivation?
You can purchase a support package by clicking on this link, "Diabetes Support Packages".
Here is my Diabetes Warrior Info:
My Diabetes Meal Plan ( a true diabetes diet, not like most of those promoted by American Diabetes Association)
==============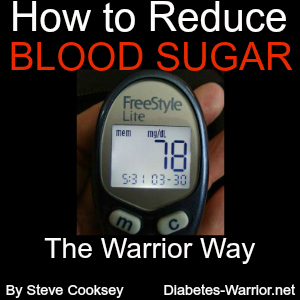 I recently published my first book.  It shows people how to reduce blood sugars and it tells them why.
This book applies not 'just' to diabetics… millions have elevated blood sugars.  According to the Medical Industry approximately 10 million diabetics are un-diagnosed.  Read my book and find out what to do!
Click this link, "How to Reduce Blood Sugar: Reducing Blood Sugar Naturally
" and order from Amazon NOW! :)
Invest a few dollars on your health and let's get BUSY!