Most of us have heard the old saying…
"An apple a day, keeps the doctor away".
I can proclaim a couple of things… That old saying is WRONG!
1) If you eat enough high carb foods that contain grains and sugar… an apple is NOT going to save you.
2) You should NOT need to eat an apple a day to 'successfully treat diabetes' …  I have not eaten any fruit except for Avocados (plain and in my Guacamole Dishes) and Tomatoes (primarily in my low carb primal chili).
The American Diabetes Association (ADA) suggests that people (especially diabetics) should eat a LOW FAT, HIGH CARB, low protein meal plan.  The ADA goes to great length to stress the "evil" of saturated animal fats… blaming it for both obesity and diabetes. Sadly most of their recipes have ingredients such as "egg whites" , "low fat milk". etc   This is a recipe for disaster … you see the evidence of the failure of this 'diet' almost daily on the news…. we are experiencing an epidemic in diabetes and obesity.
My meal plan is very different… I eat a high fat, high protein and VERY low carb meal plan…. but what do I know… I'm "just' a type 2 diabetic who successfully self treats the disease with diet and exercise.  :)
To provide evidence of the integrity of my 'lifestyle', I decided to try a simple experiment; the details are below.
NOTE: I am NOT suggesting nor implying that YOU should eat this way. I am merely demonstrating what a high saturated fat breakfast (in the form of butter) did to me.
My Latest Experiment: Stick of Butter a Day, keeps Diabetes AWAY?
Below is a picture of my breakfast for 5 days in a row. Each day I ate a stick of butter which is 4 oz or 1/4 lb of butter. I like saying 1/4 lb… sounds more 'substantial'. :)
I did not gain nor lose weight for the week. I ate approximately the same amount of food … I could easily wait until 1 or 2pm each day for lunch.  (cont'd below)
I perform 18-20 hour fasts  (skipping breakfast)  regularly and have worked out in a fasted state … so performing workouts after eating 1/4 lb of butter for breakfast was no big deal.  The butter provided plenty of energy for my workouts…and it should.  Fat has more than double the 'energy' that protein and carbohydrates have and since butter is largely animal fats… it's a great energy source.
There are other 'premium' high quality butters but the best I've had is Kerry Gold… it truly is AWESOME! However, it's expensive coming in at $12 per lb or $3 per stick. Due to the cost I decided to try my local grocer's Organic "house brand". While it's not Kerry Gold, it did cost less than half and it's good enough for me. :)
Each day the stick of butter was consumed for breakfast with my coffee. I took my time and the stick lasted about 30 minutes each day.
Also each day, around lunch time I would perform my normal and typical workouts these included sprinting, squats, plyometrics and kettlebell swings. On the fifth day I added an extra treat… I ran 7.14 miles…. and I had not run 'distance' in about four months. I definitely did not have a drop off in energy during the 5 day testing.
My energy level is something I was interested in testing but the MAIN reason I wanted to do this experiment?
Testing the affect on my blood sugar.
On the morning of the 5th day, before eating or drinking anything, soon after waking I performed an Overnight Fasting Blood Sugar test.  I received a reading of 76 mg/dl, by anyone's standard this is EXCELLENT! This is a normal blood sugar reading… for non-diabetics. :)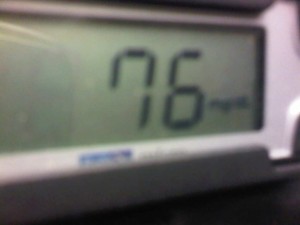 This was exciting indeed. I've had fasting blood sugar readings in the 70′s regularly but to 'read' 76 after 5 days of eating butter for breakfast… was more than I could hope for.
There are many more diabetics who are eating as I do and are 'successfully self treating' their diabetes. I know it works for them and for me, so I do not need this experiment to prove anything to me.  This 'test' does not by itself prove that butter keeps diabetes at bay but it is more evidence on top of all the previous evidence that a high fat, high protein and low carb meal plan will help YOU control your diabetes as well.
I tested my blood sugar after eating the stick of butter. I'll discuss that as well as other bodily affects of the butter as well as other activities in the next post.  :)
Stay TUNED!!! … please? :)
Here is my Diabetes Warrior Info:
My Diabetes Meal Plan ( a true diabetes diet, not like most of those promoted by American Diabetes Association)