Do me a favor … play the song below just to get the feel of where I am coming from. :)
You see… the "Purveyors of Pain", the American Diabetes Ass, the American Ass. of Diabetes Educators and the so called Academy of Nutrition and Dietetics … they all push a 'high carb, grained based" meal plan for diabetics.   The absolute last thing they should be eating!!!    Their diets can not TOUCH THIS! ===>  "A Meal Plan you can live with".
… and now… MC Hammer and "Cant' Touch This"…
Diabetics eating the American Diabetes Ass. Way … can not touch this!!!
This post's Subtitle (or alternate Title):  Steve has a new toy!!! 
What is this new toy?  It's a "Continuous Glucose Meter", here' s a picture of the screen below.  It shows my blood sugar levels continuously.
Below you can see the first 3 hours I used it… is that a thing of beauty??? :)    The range was 67 – 78 mg/dl … I'll take it!
Those first 3 hours were while I was fasting and without any strenuous exercise.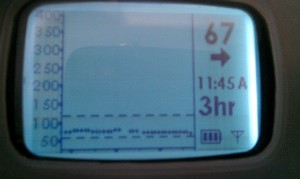 Note: As long as my sensor is in range of the meter it produces a reading.  Sometimes I forget, that's why you see small gaps in the trend line.
A very generous person lent me their Continuous Glucose Monitor (they had a spare)
I plan to put it to good use testing many foods and food combinations.
Note:  I'm going to test my normal foods and a few different combinations.  If you have suggestions please add them in the comments.
I have received a few nice suggestions via email…  some I can repeat and some I can't. ;)
If you look at the picture (click to enlarge), you may not be able to see the exact numbers (I have a file and I'll publish it later) but the blood glucose range for those three hours was 67 to 78.  (drug and insulin free too)
First Day – Approximatly 10:30 am – 4:30pm
Looking at the picture below you can see my blood sugars looking smooth and straight lined initially …
Next you see a climb, guess what that was???  …
That's not when I ate a piece of bacon! :)   THE SPIKE came when I achieved a personal record in Maximum Kettlebells Swings!  (read about it here)  While that is indeed extreme exercise for me notice one thing, the blood sugars never exceeded the dotted line. I know it's difficult to tell but the actual readings never exceeded 111  mg/dl, the line signifies 120 mg/dl.  The lower line is 60 mg/dl.
The key thing for me…. it quickly and gradually fell well back into normal ranges.  Kettlebells are a VERY strenuous exercise when attempting to do maximums in 15 mins. I was ELATED when the blood sugars did not exceed 120 mg/dl.
Also of note… I ate boiled eggs, sardines and bacon about an hour after working out… and there was essentially no increase in blood sugar.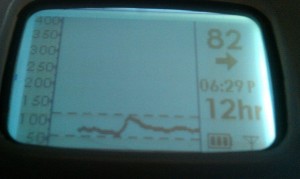 Next Up
The picture below was 5:14am the next day, the chart represents 2:14 to 5:14 AM, the morning of 4/24. It's a 3 hour chart.
See the smooth line…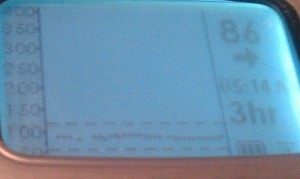 I just wanted to introduce the CGM or continuous glucose meter… and alert you to upcoming food and activity tests.
MUCH MORE TO COME!
Lastly.. I want to end with the phrase … "can't touch this!"
If someone has a better Continuous Glucose Meter picture… send it to me and I'll post it!  … especially if they are an ADA  Grain based, high carb advocate.