This post will discuss and compare:
a) my "old" Fast Food Diet which I call my Diabetes Diet…because eating it gave me Diabetes….
b) the American Diabetes Ass. (ADA) Diet
c) my current Paleo Style Meal plan
You will see that the ADA Diet is NO better than a typical Fast Food Diet… or at BEST, ONLY marginally healthier….and THUS…. detrimental to the health of EVERYONE but especially detrimental to DIABETICS.
Brief Recap of  "my story", I was hospitalized in February '09 with blood sugar over 700 (that's very bad) and an A1C value that was "too high to be read". (that's very bad)   While still in the hospital, I was told that I was a Type 1 Diabetic and would likely be on medications and insulin for the rest of my life. After discharging from the hospital I was on 4 insulin shots and 4 drugs per day… (I was not a Type 1 but likely a T1.5 still on a honeymoon. :) )
Today, I control my Diabetes with my Paleo Style Meal Plan and almost daily exercise, I take -0- drugs and -0- insulin… AND most importantly… I HAVE NORMAL BLOOD SUGAR for NON-DIABETICS. Ok…enough about me…let's look at the meal plans.
MY DIABETES DIET
….or the diet that gave me diabetes.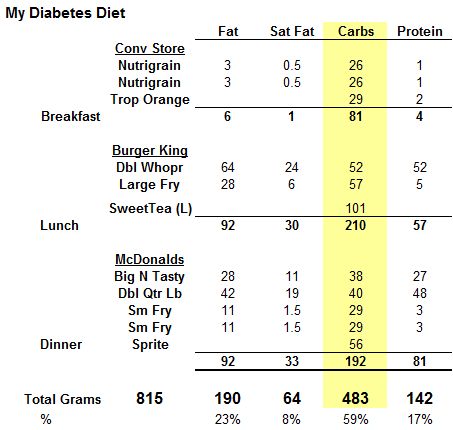 Comments:
1) WOW… look at those carbohydrate numbers…. carbs represent almost 60% of my food grams.
…. think that may have contributed to my obesity and diabetes? Not according to ADA, it's not the 59% of Carbs that caused my obesity, it was the 8% of saturated fats… which like most ADA "findings"…would be humorous…if it wasn't harming people.
2) If Saturated Fats make up a small percentage of EVEN a fast food diet….how can it be the root of all evil with the "Standard American Diet" (SAD) as soooo many claim that it is?
3)  "Sweet" Drinks represented 186 g of carbs, approximately 22 % of all grams…it's hard to believe that JUST carbs from drinks made up over 1/5th of the nutrients in my daily meal plan….
Next up…
The ADA Diet
… let's compare…
A Full Listing of the Diet and it's components are included at the end of this post. For brevity sake, I include ONLY the summaries here.  I would also like to add that due to the different ways foods can be cooked (with or without fat etc) I am only looking at the carbohydrate totals and it is the most important number for this discussion.
The ADA provides a Food Pyramid with suggested servings. They give NO guidance as to HOW MANY you should eat… they suggest you see an ADA Minion for that. ( Dietitian or Nutritionist) …why should you pay for advice on what to eat??? But that is another story.
Since there are no public guidelines… I created the chart of carbs (below) based on the minimum number of servings and the maximum number of servings. I arbitrarily chose an item from nutritiondata.com 's listing based on the ADA Food Pyramid's suggested examples.  ALL THE INFO IS HERE.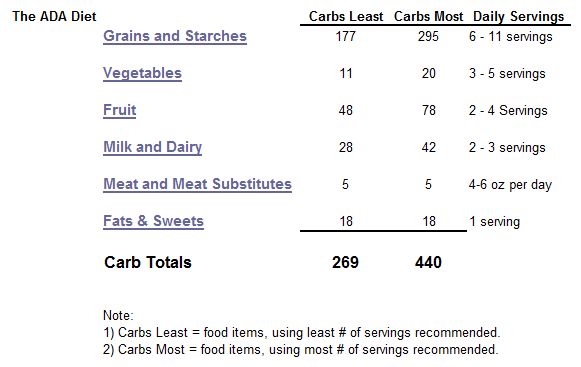 Comments:
1) At first, looking at this chart… the "ADA Diet" looks like a major improvement… especially IF you ate the minimal servings.
"My Diabetes Diet" has 483 g of carbs  vs  269g of carbs using the LEAST number of servings for the "ADA Diet.
Only one problem…the ADA does NOT give guidance on minimum vs maximum servings…so trust me, vast majority of the Diabetics believe it's ok to  eat the maximum number of servings.
2) There is another…bigger problem with comparing the two charts…. they are NOT comparing apples to apples.
Comparing Apples to Apples
The ADA Diet does not include drinks… ahhh yes. And you have to really dig to find ANYTHING negative about sugar drinks on the ADA website. BUT …that is understandable given the amount of funding the large Soft Drink manufacturers "donate" to fund study research…you know…in the name of "proper nutrition"…
To compare Apples to Apples… you need even the playing field, we will need to subtract all the "drink carbs" from the "Diet that gave me Diabetes" . Here are summaries of the two meal plans after subtracting the drink carbs.

Comments:
My first thought when I saw this was… "well…this makes sense"…. but as it sinks in…the more angry I become.
I've been saying all a long that the ADA Diet is NOT LOW CARB but that it is lowER carb than a Fast Food Diet…. that is NOT THE CASE.
IF you remove sugar drinks from the equation…. a FAST FOOD DIET… can be lower in carbs than the ADA Diet's maximum allowed servings….and only slightly higher in carbs than the LEAST amount of servings.
NO LONGER will I , nor can I say in good conscience…that the ADA DIET is lowER carb….let's call it what it is… A HIGH CARB DIET.
Paleo Meal Plan
Now let's take a look at the carb totals of my current Meal Plan…. I follow a low carb version of the "Primal Blueprint". My drinks have -0- carbs, water, tea and coffee, so the carb total below is my daily total.  My goal is to be 30 grams of carbs  +/- 10.

This meal plan (with regular exercise) gives me:
1) Freedom from Insulin
2) Freedom from all drugs (medications… )
3) Normal Blood Sugar (for non-diabetics)
4) Best fitness conditioning of my life
Summary:
In my opinion, the ADA (among others ) places all the emphasis on Saturated Fats so people will not see the obvious…
EVERYONE but especially diabetics should eat a CARBOHYDRATE restricted meal plan.
The ADA diet is NO better than a FAST FOOD diet….and you should NOT follow it. YOU should avoid the "base" of the food pyramid which includes breads, grains, legumes, cereals, rice and starchy foods.
I urge you to investigate a Paleo or Primal Lifestyle… YOU will be glad you did.
Do you need "hands on" support to transition to a healthy lifestyle? Click Here.