This post has two parts.
First: A barefoot  incident with a sharp object, picture is to the right, click to enlarge. :)
Second: A discussion regarding diabetes related amputations.
Amputations are real and diabetes amputations happen to approximately 60,000 + people in the United States alone.
Worldwide the misery is much much greater.
… I must say it.  With that much pain and suffering … why do we continue to listen to the American Diabetes Association and their world wide partners? … I DO NOT!!!   And I am THRIVING, not just surviving.
Before I begin…
First, let me say …
a) If you are diabetic,  DO NOT TRY barefooting unless you maintain normal blood sugars AND you have feeling in your feet.
b) Move into barefooting gradually, allow your feet to adjust to moving without shoes.
Secondly, I go barefoot because I love it…. I truly do.  Especially the barefoot sprints in a grassy field or on the local football field….  it is an exhilarating feeling.  I run "distance" barefoot on pavements and sidewalks because it's a challenge.  I run barefoot on pavement in part, to prove that YOU do not have to live, eat and take drugs like the American Diabetes Association and their minions want you to do.
This post, "Diabetes and Barefoot Exercise" sums up my thoughts on barefoot exercise.
Recent Barefoot Incident
Four days ago I decided to "turn my garden", I wanted to do so in my bare feet so I used a pitch fork instead of a shovel.  The shovel would have required shoes… but using a pitch fork I was able to accomplish the task barefoot.
All was well until I began raking up small brush on one end of the garden, I was going to burn them and use the ash as a fertilizer.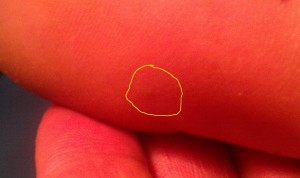 While doing so… I felt a sharp pain shoot up my foot and into my leg.   Of course my first thought was… a NAIL!  I reached down and removed the thorn in the picture (top right).   The pain lasted the rest of the day and was sore the next as well.
The picture (right) is not a great picture, despite numerous attempts the 'auto focus' on my camera would not function properly.  Still… it was NOT a major injury, it was merely a puncture of the skin by a thorn that had been laying in the garden where I dump my kitchen refuse.  There are all kinds of bugs and worms in the garden eating on the organic garbage…. I'm sure it was COVERED in bacteria… :)
The picture below as taken yesterday… three days later.   Once again… I made this a mini-experiment.
I used no soap, salves, ointments, lotions nor potions.  In fact, I have never touched it once I removed the thorn.
The picture below is just more evidence… that a diabetic toe… is just a toe, if you maintain normal blood sugars as I do.
I did not highlight it,  but hopefully you can see the "slight" scratch in the center of the picture.   No infections … the body did it's job.
That is the essence of "primal living" in my opinion.  Eating and living in a low inflammation lifestyle that allows your body to heal and defend itself.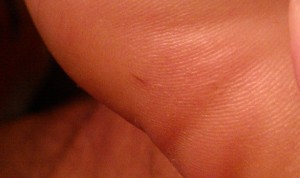 For 90% of diabetics, the thorn in the foot would have been a "big deal". Why? Because according to a report in this post, "90% of diabetics do not maintain normal blood sugars.   With high blood sugars, you risk infections that can lead to amputations. … which leads me to part two of this post.
Click Here for the category of  all posts regarding."barefooting"
 Diabetes Amputations
With my promotion of barefooting for diabetics … many people falsely believe I "make light" of the risk of amputations… I do not.
AMPUTATIONS are real!!   I spent some time digging up information of diabetes amputations…  here's what I found.
From the National Institute of Health

Total: 25.8 million children and adults in the United States—8.3% of the population—have diabetes.

Amputation

More than 60% of nontraumatic lower-limb amputations occur in people with diabetes.
In 2006, about 65,700 nontraumatic lower-limb amputations were performed in people with diabetes.
WOW! in the US alone … 65,000 diabetics have lower limb amputations.  THAT IS A TRAVESTY!!
Here I am, running around barefoot… occasionally getting  shards of glass in my foot or stepping on sharp rocks…and even inserting sharp thorns in my foot… WITHOUT CONSEQUENCE … while 10's of thousands have amputations each year.
Does this make any sense… to ANYONE???
I'll ask this question again … Who does this profit??? … The Medical Industry, Big Pharma and Big Food.
The "carb up and shoot up" policy does NOT profit diabetics.
Other Diabetes Facts
1) Just to give you an idea of the breadth of the problem with amputations due to diabetes related issues.
I googled, "Diabetes Foot Care "       … About 7,540,000 results

I googled, "Diabetes Amputation "   … About 10,300,000 results
There may be some duplicates but 17 million web pages talking about diabetes foot care or diabetes amputation.
I guarantee you that 95% of them promote a "carb up, shoot up" approach to diabetes care… or are selling diabetes supplies and profiting off the carb up shoot up approach.
2)  Poor Health Care? 
I failed to record the link… so you'll have to trust me, I'm not looking it back up…. it's not worth it.
Here is another example:

"one study confirmed that poor [diabetic] patient care was responsible for 50% of heel ulcers in a hospital setting."

"The rewards are potentially great, and include the realization of the St. Vincent target, a 50% reduction in amputation."
Once again, I run around barefoot ALL THE TIME …. and here is a study stating that the reason for so MANY amputations… is poor patient care???
Also… reduce amputations by 50%!?!?!  … how about 80, 90, 95%?? 
I have NOT seen a doctor since August 2009.
I have NOT seen an ENDO, a nutritionist … nor a Certified Diabetes Educator since February 2009 … the problem is NOT "poor health care"… it's "Deathcare".
Is it a coincidence that the study above is suggesting MORE medical services?  More consultations and screenings from doctors and diabetes educators??
… the problem is not a lack of healthcare, it's a lack of honest, unbiased advice and instruction.
3) The government is getting serious about the disease "diabetes" … the CDC is involved! Here is the source link.
"…diabetes mellitus is the most important cause of lower-extremity amputation and end-stage renal disease; the major cause of blindness among working-age adults; a major cause of disability, premature mortality, congenital malformations, perinatal mortality, and health-care costs…"

"CDC has established an ongoing and evolving surveillance system to analyze and compile periodic, representative data on the disease burden of diabetes and its complications in the United States."
Sadly this was written in 1993… since then the diabetes and obesity epidemic has sky rocketed … "we" have all benefited from the government's scrutiny and involvement in nutrition… right? … NOT! 
 Summary
Just look at me… I know I'm not much to look at personally, I mean my example. :)
I eat primarily meats and veggies.   I typically limit my total carbs to 30g or less and I am gluten free.
Click here for my diet  …. click here for how I eXercise.
I run around barefoot all the time… and I have normal blood sugar.
There is a better way than the tired, old, failed policy of the American Diabetes Association's "carb up and shoot up" plan.
I hope you will "get this"… before it's too late.