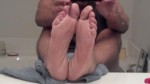 The picture to the right is a 'before' picture.  This is how my feet looked after day 1 of the challenge. :)
I should have written this post months ago…  last fall I ran, "100 Barefoot Miles in 30 Days' !!!  … completely and totally barefoot.
No vibrams, no minimalist shoes… completely barefoot, and I am diabetic.
. . . → Read More: 100 Barefoot Miles 30 Day Diabetes Challenge