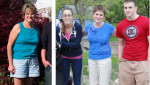 Hey!
Do you know who this is?
Her face and story has been widely reported and published in major leading newspapers.
This is Karen Gale. :)
This is an updated story … two years after the original post.  See… if I can do it….and if SHE can do it…
YOU CAN DO IT … TOO!!!
. . . → Read More: Story Update: Type 2… and much more.